BeroThane HS420 3000 Series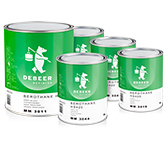 TDS - search
SDS - search
Back to products
DeBeer Refinish remains committed to providing you with products that meet your needs. After evaluating the BeroThane HS420 3000 Series, we have made enhancements that ensure the system delivers the results you expect when using our products.
The improvements to the system include the introduction of a new dedicated hardener, 8-465 BeroThane Hardener, which has led to a more robust system. The application hasn't changed, meaning it's still easy to use and very efficient. The system remains compact and you can still create the most important solid colours currently in the market.
The BeroThane HS420 3000 Series is available to order now. For detailed infromation on the BeroThane HS420 3000 Series, please refer to the system brochure.
PRODUCT OVERVIEW
| | | | | |
| --- | --- | --- | --- | --- |
| Item nr. | Product code | Product name | Per box | Volume |
| 93000/3,5 | MM 3000 | White | 2 | 3.5 L |
| 93002/1 | MM 3002 | Oxide Yellow | 3 | 1 L |
| 93006/1 | MM 3006 | Green | 3 | 1 L |
| 93009/1 | MM 3009 | Mix Black | 3 | 1 L |
| 93011/3.5 | MM 3011 | Deep Black | 2 | 3.5 L |
| 93019/1 | MM 3019 | Maroon | 3 | 1 L |
| 93021/1 | MM 3021 | Oxide Red | 3 | 1 L |
| 93025/1 | MM 3025 | Yellow | 3 | 1 L |
| 93034/3.5 | MM 3034 | Blue | 2 | 3.5 L |
| 93036/1 | MM 3036 | Orange | 3 | 1 L |
| 93037/3.5 | MM 3037 | Red | 2 | 3.5 L |
| 93040/1 | MM 3040 | Yellow Orange | 3 | 1 L |
| 93042/1 | MM 3042 | Yellow | 3 | 1 L |
| 93043/1 | MM 3043 | Transparent Yellow Green | 3 | 1 L |
| 93044/1 | MM 3044 | Purple Red | 3 | 1 L |
| 93046/1 | MM 3046 | Blue Green | 3 | 1 L |