WaterBase 900⁺ Series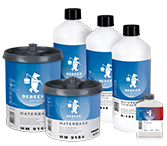 TDS - search
SDS - search
Back to products
DeBeer Refinish brings you a simpler and smarter refinishing solution: the comprehensive WaterBase 900+ Series system. Easy to use and with stock simplified, its innovative approach meets the needs of today's advanced refinisher. Fully compatible components assure superior quality results with striking natural clarity and exceptional colour precision.
Save time, materials and energy with superb coverage and quick drying. Waste and pollution are countered by clever design and non-aggressive formulations. Trust DeBeer to make higher productivity and profits easy.
Experience the DeBeer Difference.
| | | | | | |
| --- | --- | --- | --- | --- | --- |
| Item Number | Product Code | Product Name | Per box | Volume | Compliance |
| 9900/1 | MM 900 | White | 3 | 1L | VOC |
| 9901/1 | MM 901 | Transparent White | 3 | 1L | VOC |
| 9902/.5 | MM 902 | Oxide Yellow | 3 | 0.5L | VOC |
| 9903/1 | MM 903 | Blue | 3 | 1L | VOC |
| 99031/.5 | MM 9031 | Metallic Ultra Fine Bright | 3 | 0.5L | VOC |
| 9904/1 | MM 904 | Maroon | 3 | 1L | VOC |
| 99091/1 | MM 9091 | Disorient Additive | 3 | 1L | VOC |
| 9911/1 | MM 911 | Special Black | 3 | 1L | VOC |
| 9912/1 | MM 912 | Mix Black | 3 | 1L | VOC |
| 99153/1 | MM 9153 | Translucent Maroon | 3 | 1L | VOC |
| 9920/.5 | MM 920 | Green | 3 | 0.5L | VOC |
| 99214/1 | MM 9214 | Metallic Bright Red | 3 | 1L | VOC |
| 9921/.5 | MM 921 | Oxide Red | 3 | 0.5L | VOC |
| 9922/.5 | MM 922 | Transparent Bright Red | 3 | 0.5L | VOC |
| 9923/.5 | MM 923 | Metallic Bright Orange | 3 | 0.5L | VOC |
| 99283/.5 | MM 9283 | Metallic Bright Orange | 3 | 0.5L | VOC |
| 9924/.5 | MM 924 | Blue Green | 3 | 0.5L | VOC |
| 99255/.5 | MM 9255 | Transparent Red Orange | 3 | 0.5L | VOC |
| 9926/1 | MM 926 | Purple Red | 3 | 1L | VOC |
| 9927/.5 | MM 927 | Oxide Transparent Yellow | 3 | 0.5L | VOC |
| 9928/.5 | MM 928 | Oxide Transparent Brown | 3 | 0.5L | VOC |
| 9930/1 | MM 930 | Violet | 3 | 1L | VOC |
| 9934/1 | MM 934 | Bright Blue | 3 | 1L | VOC |
| 9938/1 | MM 938 | Red | 3 | 1L | VOC |
| 9940/.5 | MM 940 | Yellow Orange | 3 | 0.5L | VOC |
| 9942/.5 | MM 942 | Yellow | 3 | 0.5L | VOC |
| 9947/.5 | MM 947 | Transparent Yellow | 3 | 0.5L | VOC |
| 9948/.5 | MM 948 | Transparent Orange | 3 | 0.5L | VOC |
| 9950/1 | MM 950 | Deep Black | 3 | 1L | VOC |
| 9951/.5 | MM 951 | Transparent Red Brown | 3 | 0.5L | VOC |
| 9952/.5 | MM 952 | Mica Red Fine | 3 | 0.5L | VOC |
| 9953/1 | MM 953 | Mica White | 3 | 1L | VOC |
| 9954/.5 | MM 954 | Mica Red | 3 | 0.5L | VOC |
| 9956/.5 | MM 956 | Transparent Medium Red | 3 | 0.5L | VOC |
| 99564/1 | MM 9564 | Bright Green Blue | 3 | 1L | VOC |
| 9957/.5 | MM 957 | Transparent Red | 3 | 0.5L | VOC |
| 99575/1 | MM 9575 | Metallic Bright Blue | 3 | 1L | VOC |
| 9959/.5 | MM 959 | Mica White Fine | 3 | 0.5L | VOC |
| 9960/.5 | MM 960 | Mica Red | 3 | 0.5L | VOC |
| 9961/1 | MM 961 | Mica Blue | 3 | 1L | VOC |
| 9962/.5 | MM 962 | Mica Green | 3 | 0.5L | VOC |
| 9963/.5 | MM 963 | Mica Yellow | 3 | 0.5L | VOC |
| 9964/.5 | MM 964 | Mica Green Blue | 3 | 0.5L | VOC |
| 9965/.5 | MM 965 | Mica Purple | 3 | 0.5L | VOC |
| 9966/.5 | MM 966 | Mica Copper | 3 | 0.5L | VOC |
| 9971/.5 | MM 971 | Xirallic White | 3 | 0.5L | VOC |
| 9973/.5 | MM 973 | Xirallic Gold | 3 | 0.5L | VOC |
| 9974/.5 | MM 974 | Xirallic Green | 3 | 0.5L | VOC |
| 9975/.5 | MM 975 | Metallic Gold | 3 | 0.5L | VOC |
| 9976/.5 | MM 976 | Mica Blue Fine | 3 | 0.5L | VOC |
| 9977/1 | MM 977 | Base Additive | 3 | 1L | VOC |
| 99775/.5 | MM 9775 | Translucent Magenta | 3 | 0.5L | VOC |
| 9978/.5 | MM 978 | Mica White Very Fine | 3 | 0.5L | VOC |
| 9979/1 | MM 979 | Super Jet Black | 3 | 1L | VOC |
| 9982/1 | MM 913vc | Metallic Very Coarse | 3 | 1L | VOC |
| 9983/1 | MM 913vf | Metallic Very Fine | 3 | 1L | VOC |
| 9986/1 | MM 986 | Metallic Bright | 3 | 1L | VOC |
| 9989/1 | MM 989 | Metallic Coarse | 3 | 1L | VOC |
| 9990/1 | MM 990 | Extra White | 3 | 1L | VOC |
| 9997/.5 | MM 997 | Xirallic Red | 3 | 0.5L | VOC |
| 9998/.5 | MM 998 | Xirallic Blue | 3 | 0.5L | VOC |
| 59-11/.11 | 59-11 | Rain Forest | 1 | 110ml | VOC |
| 59-12/.11 | 59-12 | Valley | 1 | 110ml | VOC |
| 59-13/.11 | 59-13 | Tundra | 1 | 110ml | VOC |
| 59-14/.11 | 59-14 | Reef | 1 | 110ml | VOC |
| 59-21/.11 | 59-21 | Arctic Glass | 1 | 110ml | VOC |
| 59-22/.11 | 59-22 | Desert Glass | 1 | 110ml | VOC |